Forex Day Trading – Top Strategies for 2022 Revealed
Forex day trading involves buying and selling currency pairs with the view of making short – but frequent profits. In all but a few cases, you will never keep hold of an open position for more than a day. As such, you will need to be well versed in technical analysis to succeed in this segment of the forex trading scene.
In this comprehensive guide, we discuss everything there is to know about forex day trading – including what strategies and systems you can use to get started as a beginner today!
How to Day Trade Forex   – Quick Guide
If you're keen to start your forex day trading journey right now without reading our guide in full – follow the quickfire steps outlined below.
Step 1: Choose your strategy – In order to day trade forex, you will need to deploy a strategy that is suitable for your skillset. A good starting point is to focus on major currency pairs – which offer the tightest spreads and lowest levels of volatility.  
Step 2: Sign up to eToro – You will need to have a top-quality forex broker on your side to engage in day trading. eToro is a great option as the regulated platform offers dozens of pairs at industry-leading fees.
Step 3: Practice with the demo account – If you're a complete newbie – it is best to start off with a demo account. eToro offers $100,000 in paper trading funds – with the demo platform mirroring live forex market conditions.    
Step 4: Trade live forex pairs –  Once you are comfortable with how forex day trading works – you can start buying and selling currencies in the live markets.
We discuss the best forex day trading strategies further down in this guide – all of which are ideal for beginners.
What is Forex Day Trading?
Day trading in the forex industry refers to a specific short-term strategy that focuses on small but frequent gains. The general rule of thumb is that when you open a position – you will close it within a few hours. In some cases, your forex day trading order might remain open for just a few minutes.
This is in stark contrast to other fx trading strategies – with swing traders having the flexibility to keep a position live for several weeks. With this in mind, the profit margins available when forex day trading will be somewhat modest.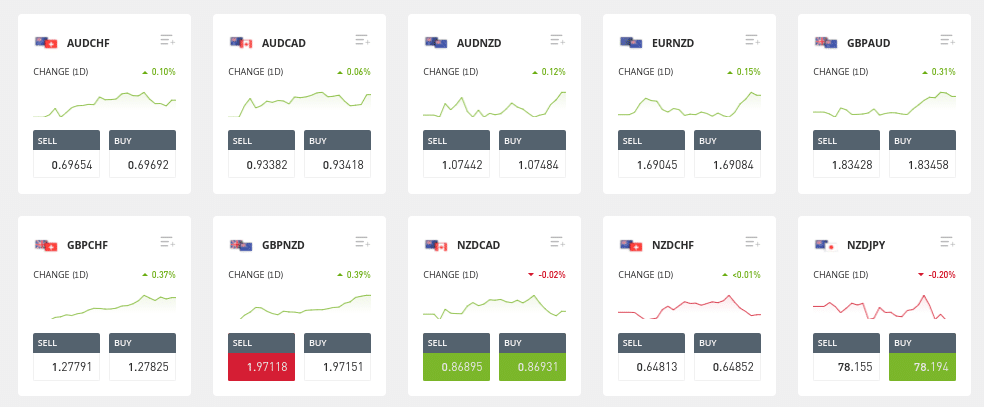 67% of retail investors lose money trading CFDs at this site
To counter this, forex intraday traders will often place multiple buy and sell orders throughout the course of the day. This ensures that small gains quickly build up and thus – can make day trading lucrative for those that are able to consistently predict the currency market correctly.
Furthermore, the best forex brokers in this space will allow you to day trade with leverage. This allows you to boost the value of your stake, which in turn, can turn this little profitability into lucrative gains. You do, however, need to ensure that you learn the ins and outs of technical analysis to succeed in the forex day trading scene.
Top Forex Day Trading Indicators
As noted above, the only way that you will become a profitable forex day trader is to have a firm grasp of technical analysis. For those unaware, this involves studying forex pricing charts with the view of finding trends. When a trend is discovered, this allows you to place a suitable trade to profit from your findings.
In order to be proficient at this form of price action analysis, seasoned forex traders will use technical indicators – of which there are dozens. Each indicator will look at a specific metric of a currency pair – such as support and resistance levels, volatility, and market sentiment.
To point you in the right direction, below we discuss three of the best day trading indicators to start with as a beginner.
Relative Strength Index (RSI)
One of the best day trading forex indicators to use as a newbie is the relative strength index (RSI). In its most basic form, the RSI – which falls under the umbrella of a momentum indicator, looks to see whether a currency pair is potentially overbought or oversold.
If a foreign currency is overbought, this means that there is too much upside pressure on the price of a pair, thus – a temporary market correction is likely. For a pair to be in overbought territory, then the RSI will show a reading of 70 or more.

At the other side of the spectrum, the RSI will show a reading of 30 or less if the currency pair is in oversold territory. This means that short-selling pressure is about to see a temporary reverse – meaning the price of the pair will rise.
Support and Resistance Levels
Although not a technical indicator persay – looking for support and resistance levels is a great way to identify pricing trends as a day trading forex newbie. In a nutshell, support lines show us a specific pricing level that has historically protected a currency pair from falling further down.
For example, let's suppose that on three occasions over the past two months – GBP/USD has approached a price of 1.3860. On each occasion, the price of the pair has bounced upwards upon approaching this level. As such, traders would view 1.3860 as a support zone on GBP/USD and thus – place an appropriate buy order.
On the other hand, let's suppose that during the same period, GBP/USD has failed to continue its upward trajectory when approaching a price of 1.4240. As this has repeated itself on several occasions, traders will likely view this as a residence level and thus – a sell order will be placed just below this price point.
Moving Averages
As the name suggests, moving averages provide an overview of the average price of a forex pair over a specific timeframe. The most utilized timeframes are the 50-day and 200-day moving averages. The form shows us the average price of a currency pair of the past 50 days and the latter at 200 days.
By deploying this technical indicator, we can assess whether the longer-term trend of a currency pair is about to go from bullish to bearish – or vice-versa.
For example, if the 50-day moving average crosses from above the 200-day average to below – this indicates that the forex trading pair is about to enter a bearish market.
In trading jargon, this is known as a 'Death Cross'. On the other side of the scale, a 'Golden Cross' would occur if the 50-day moving average crosses from below the 200-day moving average to above. This would indicate that the forex pair is about to enter a bullish market.
Best Forex Day Trading Strategies
So now that we have covered the best technical indicators to use when day trading forex – we can now dive into strategies.
Day Trading Forex Demo Accounts
Irrespective of whether you are a complete novice or a seasoned forex trader – demo accounts are one of the best tools you can have by your side. This is because you can day trade forex in real-time market conditions without needing to risk any money.
Instead, your chosen forex broker will give you an allocation of paper trading funds. For example,…


Read More : Forex Day Trading – Top Strategies for 2022 Revealed