Ripple Outlines Pragmatic Framework, XRP Slips to $1.0824 – FX Leaders
The XRP/USD ended the day at $1.08890, having reached a high of $1.17212, and a low of $1.04324. The XRP/USD pair extended its decline on Tuesday,  dropping for the fifth consecutive session, to its lowest level since October 28, amid the recent negative mood that has gripped the cryptocurrency market.
The whole cryptocurrency market saw a steep decline after the US infrastructure bill was passed as law by President Joe Biden on Monday. The bill also includes regulations on expanded reporting requirements for US brokers, which put additional downward pressure on the entire cryptocurrency market, and the Ripple token, XRP, followed suit, falling on Tuesday.
RIPPLE
Ripple outlined its pragmatic framework
Meanwhile, Ripple outlined its pragmatic framework on Tuesday. The company's executives have often criticized the apparent lack of regulatory clarity by the United States government, with regard to the cryptocurrency industry. Ripple has outlined its vision for a regulatory system in the United States, that will promote innovation while protecting investors.
According to the firm, authorities should be encouraged to support innovation sandboxes; some of the existing frameworks in the United States can be adapted to cryptocurrencies, and regulators and market participants should engage in active discussions.
The CEO of Ripple, Brad Garlinghouse, said that the proposal was designed to address and remedy the industry's specific challenges. According to Ripple, the Security Clarity Act, or SCA, would help to create regulatory clarity for cryptocurrencies, by changing the legal status of any asset sold as an investment contract, to an investment contract asset.
Furthermore, all of Ripple's co-founders, including Chris Larsen, Garlinghouse and CTO David Schwartz, have expressed concerns about the patchwork of regulations that crypto businesses must navigate, in order to operate in the United States.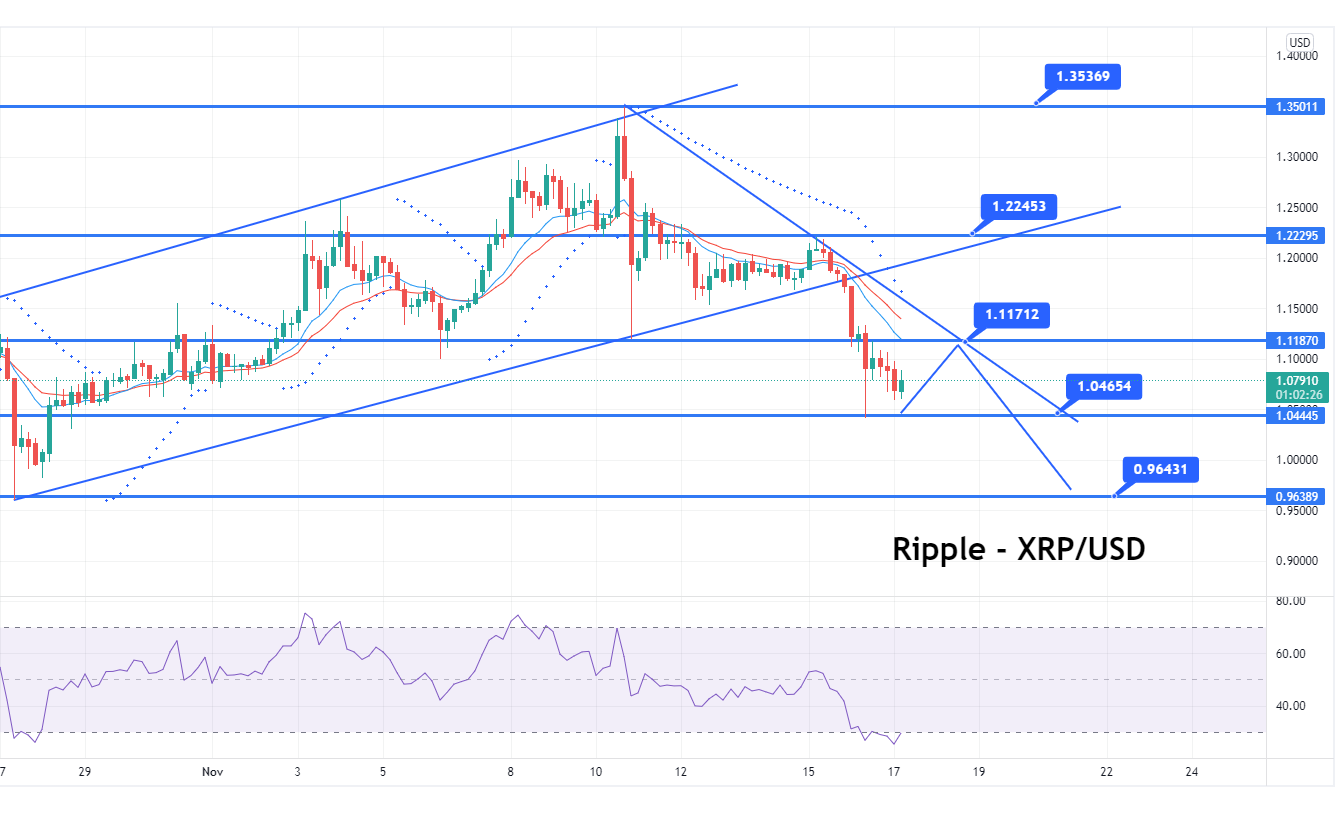 Ripple – XRP/USD – A Technical Outlook
On the technical front, Ripple is trading at the 1.0769 level, having violated the support level of the 1.1171. On the 4-hour timeframe, the XRP/USD pair has closed with bearish engulfing candles, which supports a selling trend in Ripple.
Daily Technical Levels
Support                  Resistance
1.03072                  1.15960
0.97254                  1.23030
0.90184                 1.28848
Pivot Point:          1.10142
On the lower side, the immediate support for Ripple prevails at 1.0465, and violation of this could trigger further selling until the next support area of 0.9643. On the higher side, the major resistance lies at the 1.1171 level, and a bullish breakout here could trigger a buying trend until the 1.1500 and 1.2245 levels.
The RSI is holding in an oversold zone, suggesting that bulls could enter the market soon, while the 20 and 50 EMAs support a selling bias. Let's consider taking a sell trade below the 1.1170 level. Good luck!  




Read More : Ripple Outlines Pragmatic Framework, XRP Slips to $1.0824 – FX Leaders