Ethereum Price Analysis: ETH Plunged to $4,665 Amid Profit-taking – FX Leaders
On Thursday, the Ethereum price analysis remains bearish below 4,700 level as the regression channel extends significant resistance. Considering the layer-1 gas prices, Ethereum can only be described as insane. The average transaction cost on Ethereum reached $63 on November 9, the second-highest amount in the network's history.
The high occurred on May 12, when the average petrol price reached $70. At the time of writing, the current average cost of a transaction is roughly $57. Gas prices vary greatly based on the type of transaction. A simple ERC-20 transaction will be much less expensive than a sophisticated smart contract interaction.
The cost of simply sending Ethereum-based tokens is around $45, which is still expensive. The only benefit of the exorbitant network fees for ETH holders is that more of the asset is burned via EIP-1559. Since the upgrade in early August, 841,000 ETH have been burned. This is worth approximately $3.9 billion at current pricing. According to the fee burning tracker, ENS has burned 500 ETH, or approximately $2.3 million in the last 24 hours, more than MetaMask.
Ethereum price analysis: Upward channel underpins at 4,460
Ethereum's price continues to rise, with the market's sentiment that the largest altcoin could reach $8,000 by the end of the year. And it is possible because the ETH rally does not appear to be gaining traction in the near term, owing to market-wide support that is bolstering the current trend. However, investors should be aware that the RSI is correcting away from the overbought zone, indicating that the bears are keen to drive ETH down.
The Ethereum price has found support at $4,610, which is higher than the May 12 high. Several attempts to break below this level have been made in the last several days, but bulls have successfully defended this level.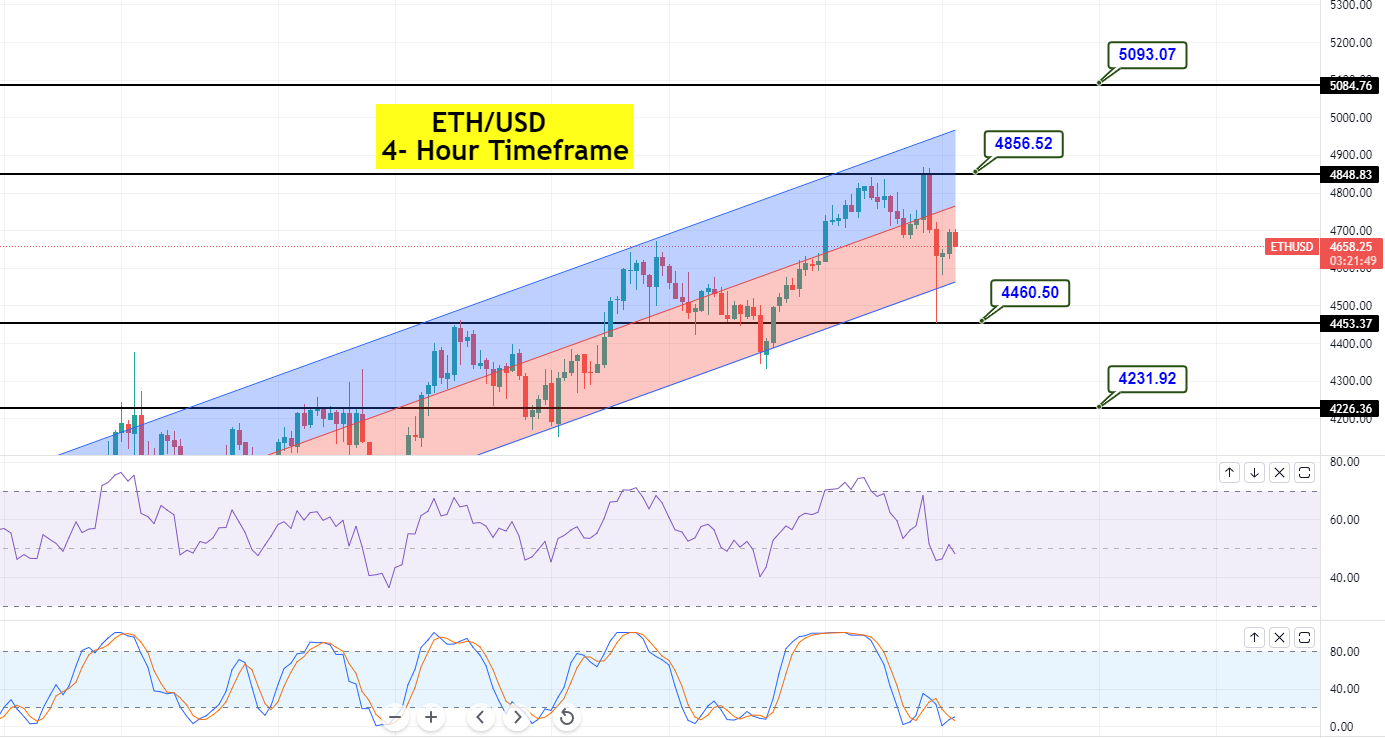 Ethereum appears to be consolidating at the moment. As long as the bulls retain ETH above the $4,610 support level, anticipate the token to break over yesterday's all-time high around $4,879 and attempt to break above the $5,000 barrier. However, things might go wrong for the bulls if the ETH price begins to fall away from the $5,000 target. Ethereum could fall below the $4,610 support level. However, ETH/USD may find support between the $4,392 level and the rising trendline that serves as Ethereum's dynamic support line.
The rising trendline has already supported the Ethereum price twice, and each time ETH bounced off to reach a new high. If ETH falls below this trend line, $4,275 will provide some support in the short term. Good luck!




Read More : Ethereum Price Analysis: ETH Plunged to $4,665 Amid Profit-taking – FX Leaders