Invest in Marijuana/Weed Stocks | Investing in Marijuana Beginner's Guide 2021
With the increased legalization of recreational marijuana in over 15 US states and medicinal marijuana in close to 36 states, the weed industry has grown from a mere buzzword into a billion-dollar industry. Research suggests that the global legal marijuana market size would reach $70.6 billion by 2028. This unique plant is known to have over 25,000 end-uses spread across 40 different industries – treatment of chronic diseases, construction materials, fuel, paper, biodegradable plastics, cosmetics, and much more. Today, companies that supply cannabis have prospered and made their way into the US stock markets. Read further to know why and how you can embark on a journey to invest in weed stocks.
This guide will teach you how to invest in Marijuana stocks, the pros, the cons and the best broker to invest in marijuana stocks.
#1 Broker to Invest in Marijuana Stocks – eToro
How to Invest in Marijuana Stocks: Step by Step Guide 2021
Once we are ready with our stocks/ETF picks and the preferred broker, we are just a few simple steps away from becoming Marijuana stock investors. eToro offers a hassle-free, beginner-friendly guide and platform for investing in Marijuana stocks. Follow these steps and start investing in just a few minutes!
Step 1: Complete the Registration with eToro – We recommend eToro to register. Simply click on 'join now' and get started.
Step 2: Verify Yourself – Provide a photo ID and proof of address. These will include your passport/driving license and a bank statement or utility bill.
Step 3: Fund Your Account – You will need some starting amount in your account to invest in a stock. This is the next step after verification. To do so, click on "deposit funds", enter an amount, and click on "deposit". You are done!
Step 4: Invest in Marijuana stocks– Head to eToro.com. Simply type "marijuana" in the search bar, press "Trade" and enter the amount you would like to invest. Upon entering the amount, press 'buy', and you are done.
Where to Invest in Marijuana Stock – Choose a Broker
The first step to investing in marijuana stocks is researching and choosing the weed stocks or ETFs that match your investment goal. Once done, the next most important step is to choose a reliable broker to carry out your transactions. Stock Brokers are financial professionals or platforms that execute orders in stock markets on behalf of the clients. With the increasing popularity of stock trading, tons of brokers have emerged in the market. However, not all offer equal service quality and reliability. Here, we have enumerated some of the top marijuana stockbrokers operating in the USA.
1. eToro: Best Overall Broker to Invest in Marijuana Stocks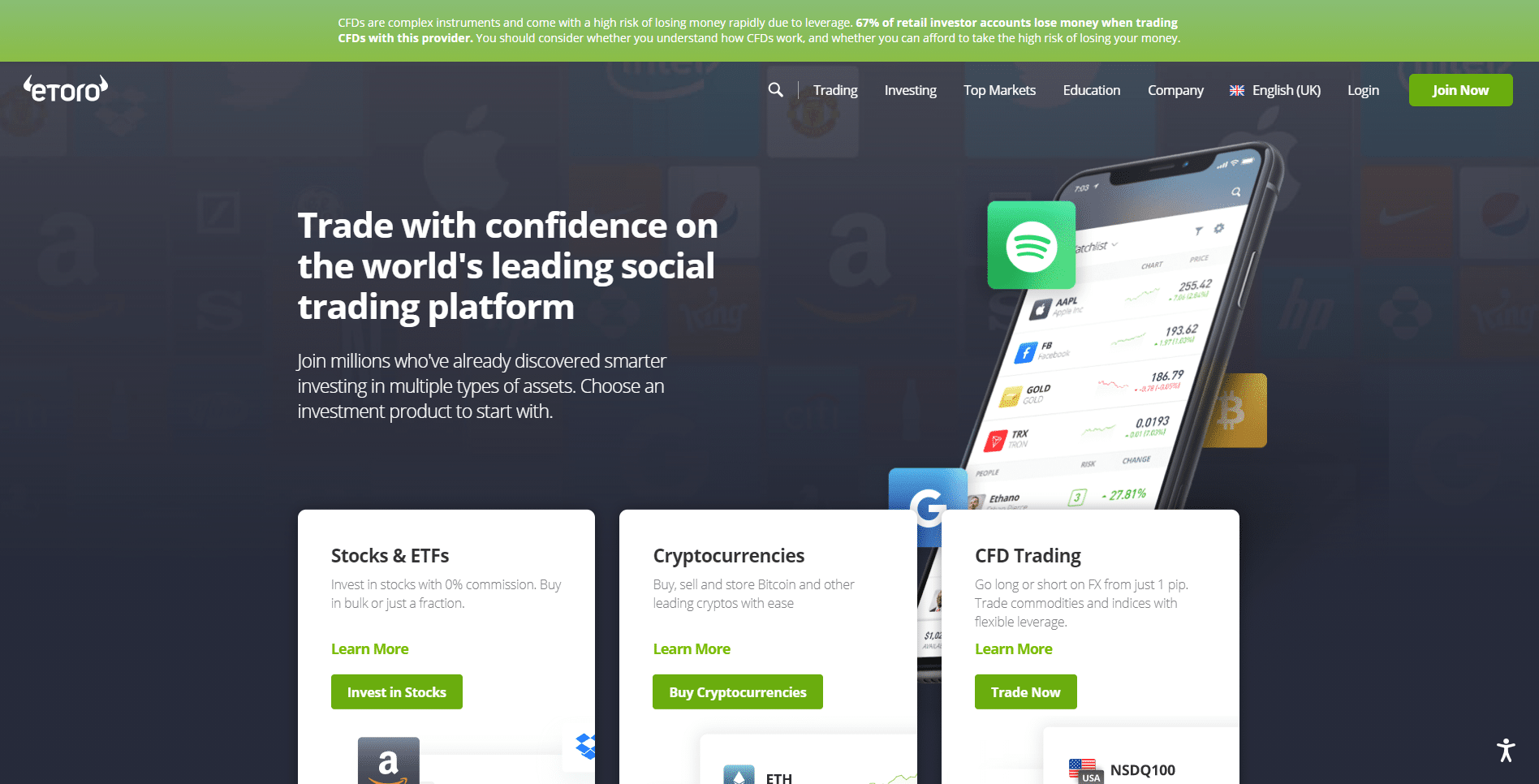 eToro is among the world's leading social trading and investment platforms. Established in 2007, eToro has made an irreplaceable name for itself in quite a short span. With over 18.7 million users, eToro has become the go-to application for all investors – new or experienced; across the USA, the UK, and Australia. As of 2020, eToro's brokerage and investment platform has been valued at $10.4 billion. The key reasons that make eToro the most reliable stockbroker, especially for beginners, include:
Security & Privacy
FCA and CySEC regulate eToro, making it a reputed firm in its business. All sensitive information of investors is secured using SSL encryption. Additionally, it uses 2-factor authentication, which adds a final layer of security for every investors' account. Thus, they take utmost precautions to secure both money and data of the users.
Unique Features
eToro pioneered the copy-trading feature in 2010. Copy-trading allows new users to copy the network's top traders automatically. It also provides a user-friendly interface and covers over 800 different markets for traders. It enables traders to actively participate in forex, cryptocurrencies, marijuana stocks, coarse stocks, and so on. They do not charge commissions and allow new investors to learn from the ropes by offering valuable resources.
eToro Fees
| | |
| --- | --- |
| Fee Type | Fee Amount |
| Commission Fee | 0% |
| Deposit Fee | $0 |
| Withdrawal Fee | $5 |
| Inactivity Fee | $10 (Monthly) |
Pros
Strictly regulated by the FCA
Option to benefit from Copy-trading
User-friendly website and mobile application
Offers trading opportunities over 800 markets
Cons
Limited facilities for advanced marijuana stock traders
67% of retail investor accounts lose money when trading CFDs with this provider.
2. AvaTrade –  Best Leverage Options to Invest in Marijuana Stocks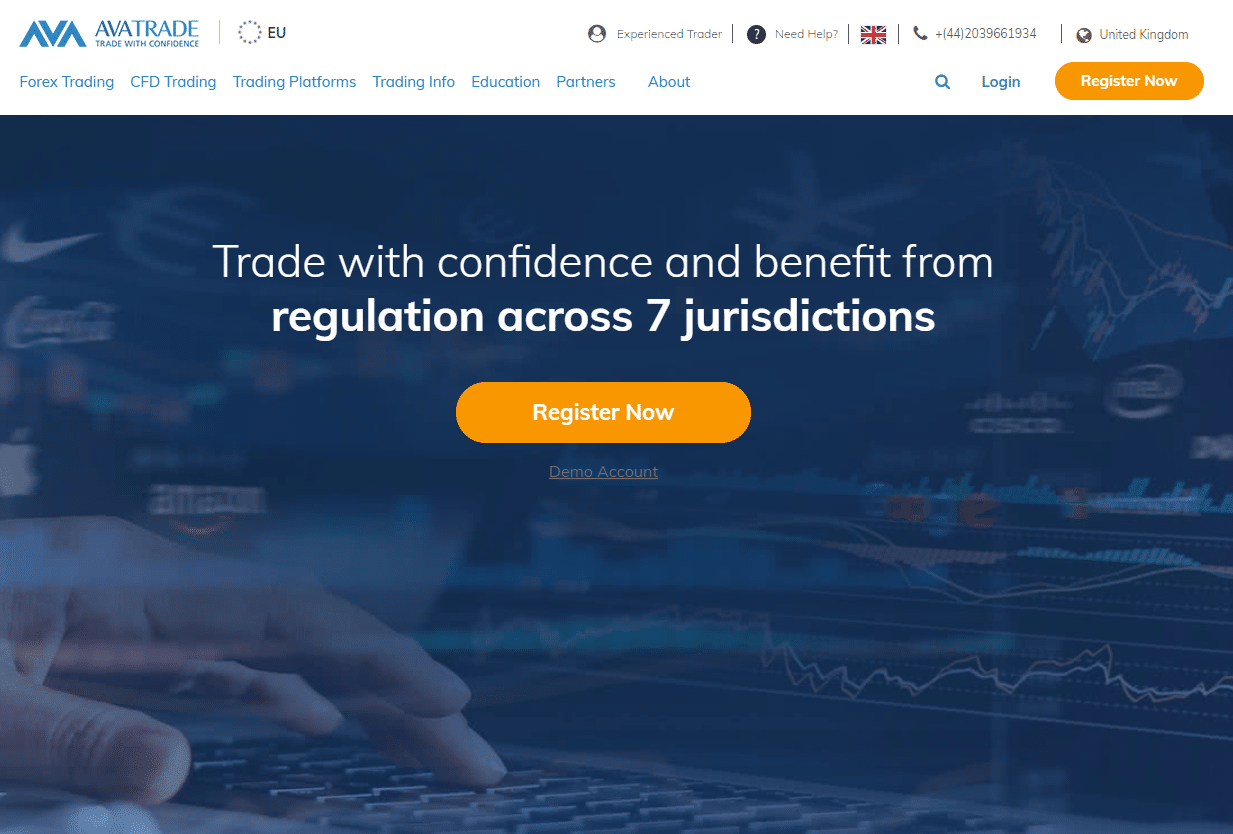 With headquarters situated in Ireland, AvaTrade is among the oldest brokers, surviving tough competition for over 15-years. Over time, it has registered with multiple jurisdictions globally. It is a privately held web-based forex and CFD broker that offers a wide range of tradable instruments like stocks, currencies, indices, cryptos, and forex. It has designed multiple features and tools to simplify investing for all levels of traders.
Security & Privacy
AvaTrade is known to deploy improved versions of conventional security features like 256-bit SSL encryption to protect investors' sensitive information. For increased security, investors can integrate McAfee Security to protect their card information. However, AvaTrade does not offer a 2-factor or biometric authentication feature for its desktop, web, and mobile versions. Also, AvaTrade lacks regulations from the Financial Conduct Authority (FCA).
Unique Features
AvaTrade is known for enabling fresh investors to gain a basic understanding of forex and CFD trading. It supports platforms for both manual and automated trading. It offers reasonable stock spreads, choices in user interfaces, resources for educating investors, and variety for diversification. These features make AvaTrade ideal for undercapitalized or new investors who are seeking to strengthen their limited skills.
AvaTrade Fees
Fee Type
Fee Amount

 

Commission Fee

0%

Deposit Fee

$0

Withdrawal Fee

$0

Inactivity Fee

$50 after 3 months & $100 after 12 months
Pros
Negative balance protection
Wide range of products, including CFDs, forex, and cryptocurrencies
Outstanding educational resources for beginners
Cons
High inactivity fees
Not regulated by FCA
No 2FA feature
Your Capital is at Risk.
3. Ally Invest – Great Broker to Invest in Marijuana Stocks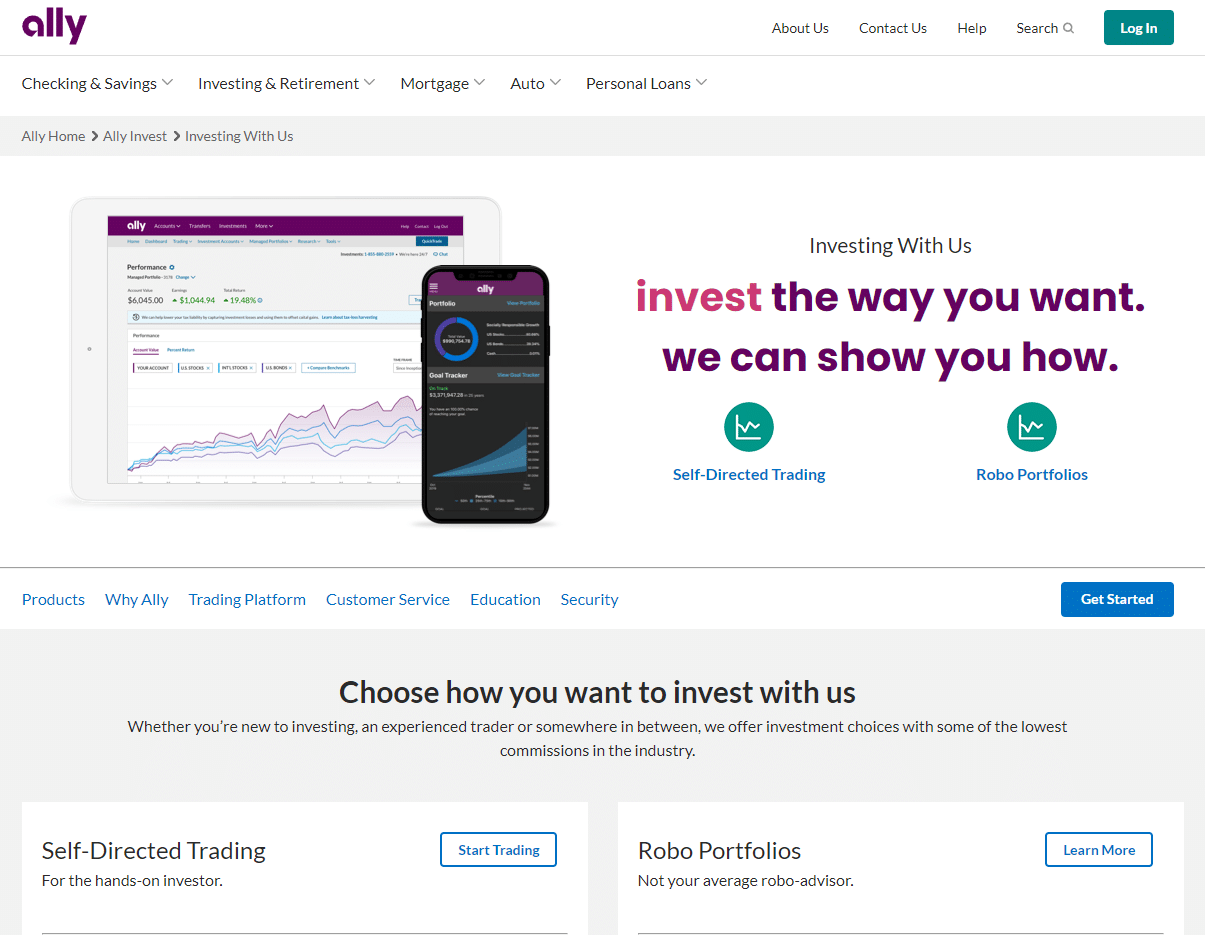 On the brokerage side of Ally Bank, Ally Invest is a web-based broking and investment platform that is a preferred choice of many investors for its low commissions and fees. The platform is also known for its reliable customer service and interactive stock analysis features. It enables trading in stocks, ETFs, and forex. The platform's user-friendly features make it a reliable pick for both beginners and experienced investors.
Security & Privacy
The platform offers two-factor authentication and biometric login on mobile devices. It provides…


Read More : Invest in Marijuana/Weed Stocks | Investing in Marijuana Beginner's Guide 2021